Watch | Sticky Beak's Story
October was Save the Kiwi month, an annual fundraising initiative dedicated to raising awareness around how we can all play our part in helping to protect our special native kiwi.

At Aon, helping to support dedicated organisations in the conservation, education and research of native bird species is dear to our hearts and we are privileged to partner with the National Kiwi Hatchery Aotearoa, Ngatapa Ecological Trust and Wingspan.

In celebration of Save the Kiwi month, we share the story of Sticky Beak, a beautiful male brown kiwi reared through Operation Nest Egg - a successful kiwi conservation program established to keep kiwi eggs and chicks safe while they are most vulnerable.
Watch Sticky Beak's story in the video below

Our story starts with Geoff
Geoff is a mature male brown kiwi living in Ngatapa Ecological Trust land. A good breeder, Geoff has so far produced 7 eggs as part of Operation Nest Egg. In February, Geoff's GPS leg monitor notified Tom Blampied, an Aon staff member and trained kiwi conservation volunteer, that he was sitting on a new clutch.
Geoff was left to sit on his eggs for 60 days. This ensures the eggs are mature enough not to be damaged during retrieval. Tom was then responsible for retrieving the eggs.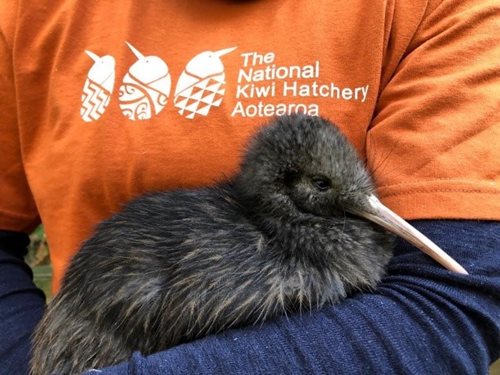 Welcome to the world Sticky Beak
Sticky Beak's egg was retrieved and initially taken to the Westshore kiwi creche in Napier on April 11th, 2021. Sticky Beak hatched 2 days later on April 13th, weighing 319.0g. At 2 days old, Sticky Beak was then transferred to the National Kiwi Hatchery in Rotorua, where he spent the first 4 months of his life.
As a young chick, he was reared in a Brooder box, a kiwi baby creche filled with moss and fern leaves to imitate the forest floor. Once Sticky Beak was big enough, he was transferred to an outdoor enclosure to grow into an adult kiwi.
Sticky Beak's health check
In May, 3 lucky Aon staff got to visit the Hatchery to participate in Sticky Beak's health check. Sticky Beak weighed a healthy 450g, although he still had a way to go before big enough to be released. These routine health checks involve a weigh in, a dosing of parasite medication if it's needed and giving the chick a condition score by checking eyes, ears, mouth, bill, legs and feet.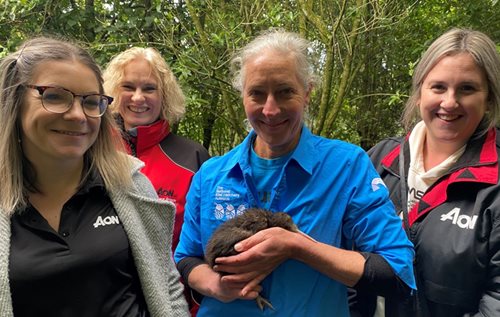 Hayley McGuiness, Jennifer Finucane and Alicia Owen (Aon staff members) with Carmel Richardson, Senior Kiwi Keeper and Sticky Beak at the Hatchery.
Time to head back to the wild
Sticky Beak eventually reached a 'stoat proof' weight and he was recently released back to Ngatapa Ecological Trust land on August 15th, 2021. He will now be left alone to live a happy life in Ngatapa, however, we are hoping that like his dad Geoff, we get to see him again when he breeds.
Why egg retrieval is vital to the survival of kiwi
The National Kiwi Hatchery works with 15 community, iwi and DOC-led conservancies across the North Island who locate and collect kiwi eggs in their respective forests and deliver them to the Hatchery as part of Operation Nest Egg.

The Hatchery incubate, hatch and raise the kiwi chicks until they reach a stoat-proof 1kg, increasing their survival rate from just 5% to over 65%. Of the estimated 68,000 remaining kiwi left in all of New Zealand, the majority are in unmanaged populations, which are estimated to be declining at 2-3% per year. The national goal is to reverse that decline and set kiwi populations towards a 2% increase per year. There are an estimated 35,000 brown kiwi, the only kiwi species naturally found on the North Island.

Finding and transporting kiwi eggs, incubating and hatching the baby chicks, rearing and feeding them until the chicks are stoat proof and then releasing them back into the forest as strong healthy adult kiwi is a hugely complicated process – but it is well worth it when strong, healthy kiwi like Geoff and Sticky Beak can be released to breed future generations.
Learn more about The National Kiwi Hatchery Aotearoa by visiting their website: nationalkiwihatchery.org.nz

Practical ways you can help to protect kiwi
If you find a sick, injured or dead kiwi call your local DoC office, or our 24 hour emergency hotline 0800 DOC HOT (0800 362 468).

Minimise the threat of attacks on kiwi by getting your dog avian aversion trained and not dumping unwanted pets.

Watch out for any sign of kiwi when you are in kiwi habitat. Report anything you see to Quest for Kiwi. https://www.kiwisforkiwi.org/news-and-media/join-the-quest-for-kiwi/

Fence kiwi habitat on your property, trap predators and put escape ramps in cattle stops.
Kiwi facts:
Kiwi are as monogamous as humans! Kiwi live for approximately 50 years and their partnerships can last their whole lives.

Kiwi start breeding at about 2 years old.

Females Kiwi have two functional ovaries. In most other birds only the left ovary develops as they need to be lighter for flight.

Kiwi have sensory pits at the tip of their bill which pick up on the movement of invertebrates – so whilst it looks like they are stabbing around in the dark, they're actually foraging and probing very efficiently.